First edition of the Technical Report that makes visible the situation of craft beer in the Basque Country.
Thanks to the experience in drafting the technical report on craft beer in Catalonia, Beer Events is commissioned by the Euskal Garagardoaren Elkartea (EGE – the association of Basque beer producers) to make a technical report on the state of beer artisan in the Basque Country, which received the support of the Vice-Ministry of Agriculture, Fisheries and Food Policy of the Basque Government.
Once the main axes of interest have been agreed, a survey is carried out among all the country's processors with an excellent response of more than 90% (20 out of 22 producers took part). The study collects, among others, production data, evolution of the sector, market shares, jobs generated and marketing campaigns.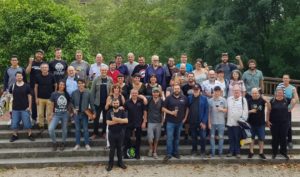 Within the project, a technical summary was made (edition in Basque, Spanish, English) where interesting data were presented such as the more than 1.25 million liters produced together, representing a market share of 2.1%. 293 different beers have been made and 76 direct jobs have been created.
This technical report was presented in two phases: A preview of data in the framework of the technical conference "Craft Beer Revolution – Keys to understanding the art of craft beer" held in Donostia within the framework of the summer courses at the University of the Basque Country. And a subsequent presentation of the full report that took place at the Yohn Palace in Bilbo, which had a wide impact both in the media and in different agents of the sector.