Craft beer in the Basque Country before COVID (in 2019) reached 2.4% of the market share.
The 21 factories jointly produced about one and a half million liters.
More than half of the craft factories have gone through "ERTE" (Record of Temporary Employment Regulation) and the 38% reduction in production. 
EGE (Euskal Garagardo Elkartea – Basque Beer) has the pleasure of presenting for the second year this technical report on the "State of Craft Beer in the Basque Country in 2019" and "The COVID19 dossier" to create a first shot of how the current crisis is affecting the Basque beer sector. The study has been carried out for the second consecutive year promoted by the association, with the attention of the Vice-Ministry of Agriculture, Fisheries and Food Policy of the Basque Government and directed by the Barcelona Beer Festival team.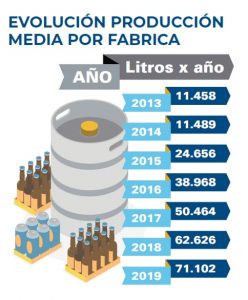 The abrupt turnaround that occurs in March 2020, made it difficult to prepare the technical report. It was hard to get a response from the brewers during a time full of complications and struggles on each brewery. That is why we would like to remark, the 21 answers obtained from 23 possible (91% of the total).
Thus, we can see that, in 2019, the Basque beer sector was in growth and consolidation, which is reflected in the following data, in an upward trend compared to 2018.
SUMMARY 2019: 
1,49 million liters, 19% increase compared to 2018 (1.2 million liters)
2,4% market share
1,1% production quota
352 different types of beer were produced
Growth in the use of local ingredients (malt and hops)
112 new job positions
62% of total consumption is produced in the Basque Country
14% from exportation
More than 9000 people visited one of the beer facilities for tourism purposes

Leaving a very positive 2019, in March 2020 the blow caused by the COVID19 crisis and the entire sector saw this growth line slowed down, which was also expected in 2020.
In the specific dossier on COVID effects (on the final pages of the Technical Report), we discovered that 53% of companies have been affected at some point by an ERTE (Record of Temporary Employment Regulation). 57% have production levels between 60% and 80% compared to 2019, with the average production value 62% compared to the previous year.
On the other hand, despite the drop in sales, one of the distribution channels has obtained a substantial rise: 86% have seen a good opportunity to reach the customer and create a new communication channel. This channel has represented an outstanding 54% of the usual sales.
Despite the harsh circumstances, we would like to end with a positive fact: 87% of the brewers see the continuation of the company possible once the crisis has been overcome, defining the key points to be able to leave: Tax deferrals and quotas, reduced VAT and indirect aid in support for local products by incorporating craft beer into administration campaigns and actions.